Ottershaw
Ottershaw is situated in open woodlands in the Borough of Runnymede in northwest Surrey. The A320 links the village with Chertsey to the north and Woking to the south.
The whole area was originally heathland, part of the waste of the Manors of Walton on Thames and Walton Leigh, located on Chertsey Common in the Windsor Forest. The payment of tithes was to the manor of Chertsey Beomond as a result of a dispute in the 13th century between the Abbot of Chertsey Abbey and Rector of Walton on Thames that went all the way to the Pope in Rome. Chertsey Abbey won, so for a small area the history is quite complicated!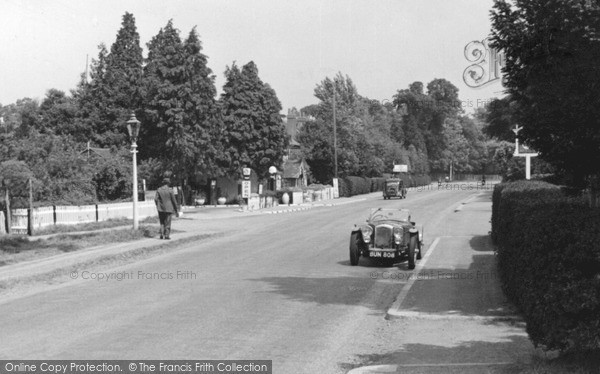 During the 16th century small farms were established in the wasteland – Brox, Bousley, Potters Park and Spratts. These remained as farms until the 19th century when they became nurseries supplying vegetables and cut flowers to London. The daily journey to Covent Garden could just be made by horse and cart. The two farms of an earlier date Anningsley and Ottershaw came under more wealthy lessees from London in the 16th and 17th centuries, who rebuilt them as their country houses and parks, as well as farms.
The labourers lived in small daub/stone cottages in the three hamlets of Brox, Spratts and Chertsey End Lane. These often had to be rebuilt, hence there are few truly old buildings in the village. Slowly these were replaced with more modern houses, and in particular after World War 2 there was a steady growth along the roads with closes of houses at the back on the former nursery land.
It was not until the mid-19th century that the name of Ottershaw, from the estate of that name, came into general use as the village name. At this time Sir Edward Colebrook, owner of Ottershaw Park, provided the land and paid for the fine church, whose architect was Sir Gilbert Scott. Thus Ottershaw became a separate parish from Chertsey.
Further information
Search this website for records related to Ottershaw
Back to homepage
open/close sidebar
Information